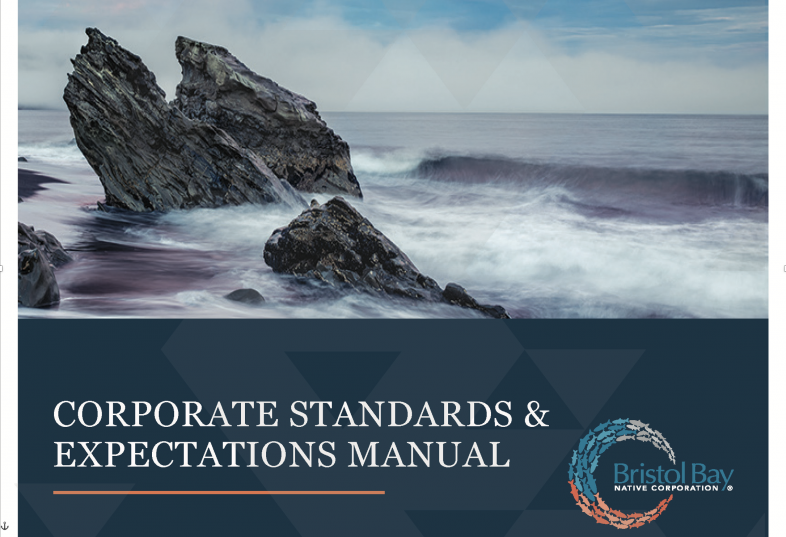 Corporate standards & expectations manual
You can hover over the circles below to view an abbreviated version of the Corporate Standards & Expectations.
Click the image above to view the entire Corporate Standards & Expectations Manual.
If you have questions on any of the standards or expectations, please feel free to reach out to the BBNC Compliance Department at compliance.bbnc.net.
Shareholder Development
Shareholder Development
Department Head: Carol Wren, Vice President, Shareholder Development
Subsidiary Expectations
Adhere to the Shareholder Hire Preference Policy: BBNC grants an employment preference first, to BBNC shareholders, their spouses or descendants, and second, to Alaska Natives, who meet the qualifications of the position.
Develop a business line shareholder development plan: This plan is tailored to the business line workforce needs and opportunities and outlines concrete goals that the business line intends to implement towards providing outreach, hiring, developing, advancing and retaining shareholders.
Provide a Quarterly Report, typically delivered at the appropriate Committee Meeting, memorializing the activities accomplished from the business line shareholder development plan
Tax
Tax
Department Head: Kristy West, Senior Vice President, Tax
Subsidiary Expectations
Understand tax obligations applicable in each of the jurisdictions in which it operates.
Register for and maintain tax accounts associated with indirect tax filings in each jurisdiction.
Prepare, file, collect and remit indirect or transactional taxes where access to detailed books and records is necessary to determine tax obligations. Examples of indirect tax include, but are not limited to, payroll, sales, excise, gross receipts and property taxes.
Provide requested information required for financial statement tax reporting, estimated tax calculations and tax return compliance as needed throughout the year.
Maintain a fixed asset depreciation system to include tax method depreciation schedules as needed for tax return compliance.
Accounting
Policies
Standards, procedures and written controls help to prevent and detect unethical conduct.
Best Practices
Create one central, cross-functional repository for policies, procedures, guidelines, etc.
Communicate new and revised policies to applicable parties (employees, independent contractors, vendors, etc.)
Implement and distribute a policy development process
Share the BBNC Code of Ethics and Business Conduct
Governing Authority
Board of Directors
Executive Leadership 
A Compliance and Ethics Program Structure creates various levels of oversight by knowledgeable individuals to ensure that applicable policies and written standards of control are followed.
Best Practices
Define the scope of your industry-specific, risk-based compliance program
Document your Compliance & Ethics Program strategic plan and obtain leadership approval
Identify dedicated compliance personnel or personnel who accomplish Compliance & Ethics Program functions
Create a compliance and ethics budget
Standards & Expectations

 
Accounting 
Administration 
Communications
Compliance 
Education on relevant laws, regulations, and policies so that expected conduct in the workplace reduces the probability of unethical conduct.
Best Practices
Training:
Offer training in multiple formats (electronic, live, interactive)
Track training completion
Measure employee satisfaction with training
Document the effectiveness of training (i.e., is there a reduction in risk because people are trained)
Education (Content):
Complete Annual Compliance & Ethics Training
Identify and complete industry-specific training (mandated by industry, regulations or legislation)
Identify and complete training that supports employee development and aligns with strategic goals
Provide training on new and revised policies, as requested or needed
Communication:
Communicate compliance events (policies, training, initiatives, industry changes)
Offer communication in multiple formats (email, website, intranet, newsletter)
Corporate Development
Education Foundation
Finance & Treasury 
Human Resources 
Information Technology 
Land and Natural Resources
Legal
Culture of Integrity
Duty to ensure that senior leadership models and rewards high ethical behavior by delegating authority, hiring, and promoting others with a proven record of high character.
Best Practices
Send Executive and Senior Leadership to the Annual Leadership & Compliance Conference
Promote a Speak Up, Speak Out culture
Reinforce the importance of compliance and ethics and obtain leadership support
Define specific compliance and ethics expectations
Assess employee perception of culture using culture surveys
Work with key stakeholders to remediate cultural issues
Operations
Records & Information Management 
Risk / Safety / Internal Audit 
Shareholder & Corporate Relations 
Shareholder Development 
Tax  
Monitoring, Auditing & Reporting
Continuous and routine review of business activity allows issues to be identified early on and remedied quickly. Open lines of communication increase early detection of issues and help identify areas or topics that require additional monitoring or education.
Best Practices
Monitoring:
Conduct wellness checks (via telephone, video call, or live) to promote a culture of integrity and appreciate employees who demonstrate ethical behavior
Maintain a database of applicable laws and regulations and track changes, as needed
If red flags appear, report the issue using the established reporting mechanism
Auditing:
Collaborate with the Internal Audit function to ensure that the compliance program meets industry standards
Reporting:
Maintain an anonymous hotline for employees to report misconduct
Create multiple channels for employees to report misconduct
Communicate the importance of speaking up and protections (i.e., no retaliation, anonymous reporting) for employees who report misconduct
Solicit employee feedback regarding reporting mechanisms