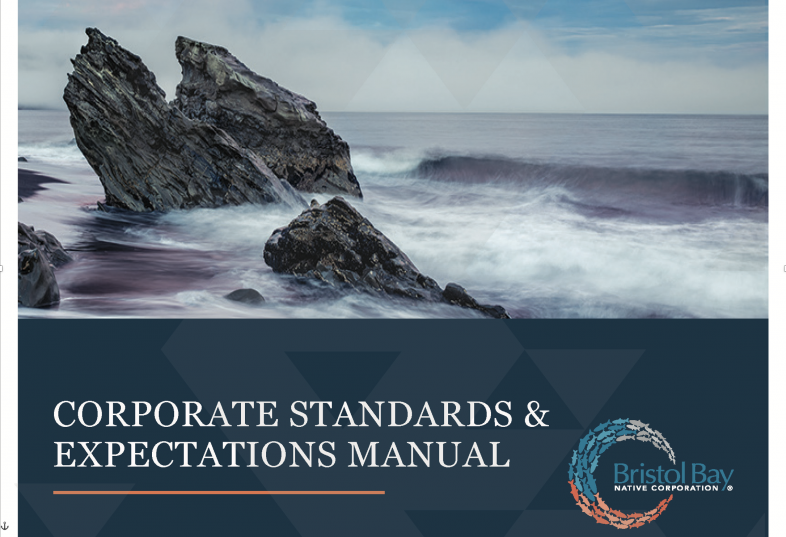 Corporate standards & expectations manual
You can hover over the circles below to view an abbreviated version of the Corporate Standards & Expectations.
Click the image above to view the entire Corporate Standards & Expectations Manual.
If you have questions on any of the standards or expectations, please feel free to reach out to the BBNC Compliance Department at compliance.bbnc.net.
PURPOSE & COMMITTMENT
Purpose & Committment
Department Head: Ethan Schutt, Executive Vice President & General Counsel
Subsidiary Expectations
Obtain and use qualified and experienced legal support and advice for subsidiary leadership and operations to protect the reputation of BBNC's brand and its family of companies, minimize legal risk and exposure, and reduce costs
Perform corporate governance (registration and maintenance) of non-Alaska based entities/jurisdictions
Manage litigation and customer/vendor demands, including bond claims and FOIA requests, except employment matters
Provide monthly updates and prompt notification to BBNC Legal and Risk Management Departments of matters in compliance with the subsidiary Operating Agreement and as requested to ensure timely updates to BBNC's Corporate Executive Leadership, BBNC's Board of Directors and KPMG
Register and maintain intellectual property: trademarks, copyrights, and patents; protect confidential information and trade secrets
SHAREHOLDER ENRICHMENT
Shareholder Enrichment
Department Head: Scott Torrison, Executive Vice President & Chief Operating Officer
Subsidiary Expectations
Comply with Entity Formation and Management Policy , Foreign Work Approval Policy, Joint Ventures and MPA Approvals , Contracting Compliance Policy , and Bonding and Surety Policy
Comply with Primary and Secondary NAICS revenue management
If the subsidiary business line contains 8(a)entities, must comply with all applicable laws and regulations (i.e., SBA 8(a) Business Development Program)
Adhere to subsidiary Operating Agreement
LANDS & RESOURCES
Lands & Resources
Department Head: Nellie Phillips, Records & Information Manager
Subsidiary Expectations
Adhere to the RIM Policy and Records Retention Schedule
Secure, organize and maintain records and information required for active business use for efficient access
Transfer records out of active file areas that are no longer needed for active business use (typically after one year of inactivity)
Classify inactive records (hard-copy or electronic data) to capture the record type, records details and record dates to apply appropriate retention period.
Store, organize and label inactive records (onsite or with an offsite vendor) to ensure proper safeguard and separation of records for efficient access and retrieval when needed.
Retrieve inactive records promptly for business use (i.e., discovery, litigation).
With the approval of the BBNC Records and Information Manager, destroy inactive records that have met the retention period and are not subject to a document hold
CULTURAL PRESERVATION
Cultural Preservation
Department Head: William Gornto, Senior Vice President, Corporate Risk Management
Subsidiary Expectations
Identify and assess business and operational risks, including natural disasters, leadership gaps, physical security, cybersecurity, regulatory changes and other matters
Prioritize, manage, mitigate and report to risks
Develop, implement, test and periodically update a crisis management plan, including identification of when to escalate to Corporate
Develop, administer and enforce a safety program and culture based on industry standards that promotes a safe and healthy work environment for employees, and compliance with local, state and federal requirements. A safety program and culture includes training, prevention, accountability, accurate health/safety metrics, claim/case management, near miss reporting and a culture of no fear of blame.
Provide monthly updates and prompt notification to BBNC Legal and Risk Management Departments of litigation matters in compliance with the subsidiary Operating Agreement
Respond to BBNC requests for insurance renewal information.
Provide suggested areas for audit to the Corporate Internal Audit Work Plan with suggested projects
Participate in Corporate Internal Audit, when applicable.
Administer claims that are not subject to insurance or litigation, in accordance with the subsidiary Operating Agreement
Accounting
Policies
Standards, procedures and written controls help to prevent and detect unethical conduct.
Best Practices
Create one central, cross-functional repository for policies, procedures, guidelines, etc.
Communicate new and revised policies to applicable parties (employees, independent contractors, vendors, etc.)
Implement and distribute a policy development process
Share the BBNC Code of Ethics and Business Conduct
Governing Authority
Board of Directors
Executive Leadership 
A Compliance and Ethics Program Structure creates various levels of oversight by knowledgeable individuals to ensure that applicable policies and written standards of control are followed.
Best Practices
Define the scope of your industry-specific, risk-based compliance program
Document your Compliance & Ethics Program strategic plan and obtain leadership approval
Identify dedicated compliance personnel or personnel who accomplish Compliance & Ethics Program functions
Create a compliance and ethics budget
Standards & Expectations

 
Accounting 
Administration 
Communications
Compliance 
Education on relevant laws, regulations, and policies so that expected conduct in the workplace reduces the probability of unethical conduct.
Best Practices
Training:
Offer training in multiple formats (electronic, live, interactive)
Track training completion
Measure employee satisfaction with training
Document the effectiveness of training (i.e., is there a reduction in risk because people are trained)
Education (Content):
Complete Annual Compliance & Ethics Training
Identify and complete industry-specific training (mandated by industry, regulations or legislation)
Identify and complete training that supports employee development and aligns with strategic goals
Provide training on new and revised policies, as requested or needed
Communication:
Communicate compliance events (policies, training, initiatives, industry changes)
Offer communication in multiple formats (email, website, intranet, newsletter)
Corporate Development
Education Foundation
Finance & Treasury 
Human Resources 
Information Technology 
Land and Natural Resources
Legal
Culture of Integrity
Duty to ensure that senior leadership models and rewards high ethical behavior by delegating authority, hiring, and promoting others with a proven record of high character.
Best Practices
Send Executive and Senior Leadership to the Annual Leadership & Compliance Conference
Promote a Speak Up, Speak Out culture
Reinforce the importance of compliance and ethics and obtain leadership support
Define specific compliance and ethics expectations
Assess employee perception of culture using culture surveys
Work with key stakeholders to remediate cultural issues
Operations
Records & Information Management 
Risk / Safety / Internal Audit 
Shareholder & Corporate Relations 
Shareholder Development 
Tax  
Monitoring, Auditing & Reporting
Continuous and routine review of business activity allows issues to be identified early on and remedied quickly. Open lines of communication increase early detection of issues and help identify areas or topics that require additional monitoring or education.
Best Practices
Monitoring:
Conduct wellness checks (via telephone, video call, or live) to promote a culture of integrity and appreciate employees who demonstrate ethical behavior
Maintain a database of applicable laws and regulations and track changes, as needed
If red flags appear, report the issue using the established reporting mechanism
Auditing:
Collaborate with the Internal Audit function to ensure that the compliance program meets industry standards
Reporting:
Maintain an anonymous hotline for employees to report misconduct
Create multiple channels for employees to report misconduct
Communicate the importance of speaking up and protections (i.e., no retaliation, anonymous reporting) for employees who report misconduct
Solicit employee feedback regarding reporting mechanisms