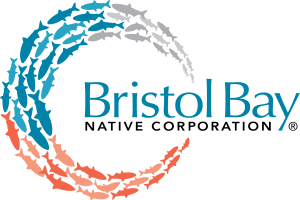 Our brand, our identity
Our heart is in Bristol Bay, the place our three Native cultures have called home for roughly 10,000 years and home to the world's largest wild sockeye salmon fishery. We have a profound commitment to "Fish First."
The circle formed by the fish in our logo represents completeness, wholeness, inclusiveness, and perpetuity. The number three runs deep in our corporate DNA and is symbolized in our logo by our three colors — salmon, silver, and blue. We call our logo "The Eternal Circle of Life." Storytelling is part of who we are and an important part of our heritage, and we can best share the layered meanings of our logo through three stories."
The three life stages of salmon
The life story of the wild salmon of Bristol Bay begins in the pure headwaters where they are born and continues as they leave for the sea as sparkling silver fingerlings. They live and grow in the blue sea waters for several years before beginning a change of color as they mature and make their way home to the freshwater streams and rivers that flow into our bay. Making their way upstream, the adults pair up and start the process all over again, laying and fertilizing roe. This is where their cycle ends and a new one begins in the Eternal Circle of Life.
THE NATURE AND MISSION OF OUR CORPORATION
The three colors in the circle of fish also represent our three ancient cultures united as one in the modern world to fulfill a great vision — "Enriching Our Native Way of Life." Under the Alaska Native Claims Settlement Act (ANCSA), we have created a responsible Alaska Native investment corporation to achieve this mission and ensure the eternal circle of our Native way of life for generations to come. We do this by diversifying our investments in three ways: a marketable securities portfolio, over 40 profitable operating companies, and investment in BBNC shareholders and our region.
FISH FIRST — FOR US, OUR STATE, THE WORLD
Our corporate identity and logo are rooted in the three key reasons for the Corporation's dedication to "Fish First" and responsible development. First and foremost, salmon is and always has been the principal means of subsistence for the cultures of the region and must be protected for that reason alone. Second, salmon contributes to Alaska's economic health. And third, because Bristol Bay produces the world's largest wild sockeye salmon fishery, we have a global human and environmental responsibility to protect this resource.
For more information about BBNC brand and logo usage, contact:
Carmell Engebretson
Communications Manager, BBNC
cengebretson@bbnc.net
the BBNc Brand: Holding and subsidiary company guidelines
As members of the BBNC family of companies, it is important to project a profession and cohesive brand. These guidelines have been designed to help our companies utilize the correct corporate brand, messaging and a baseline design while highlighting each group's unique expertise and skills.