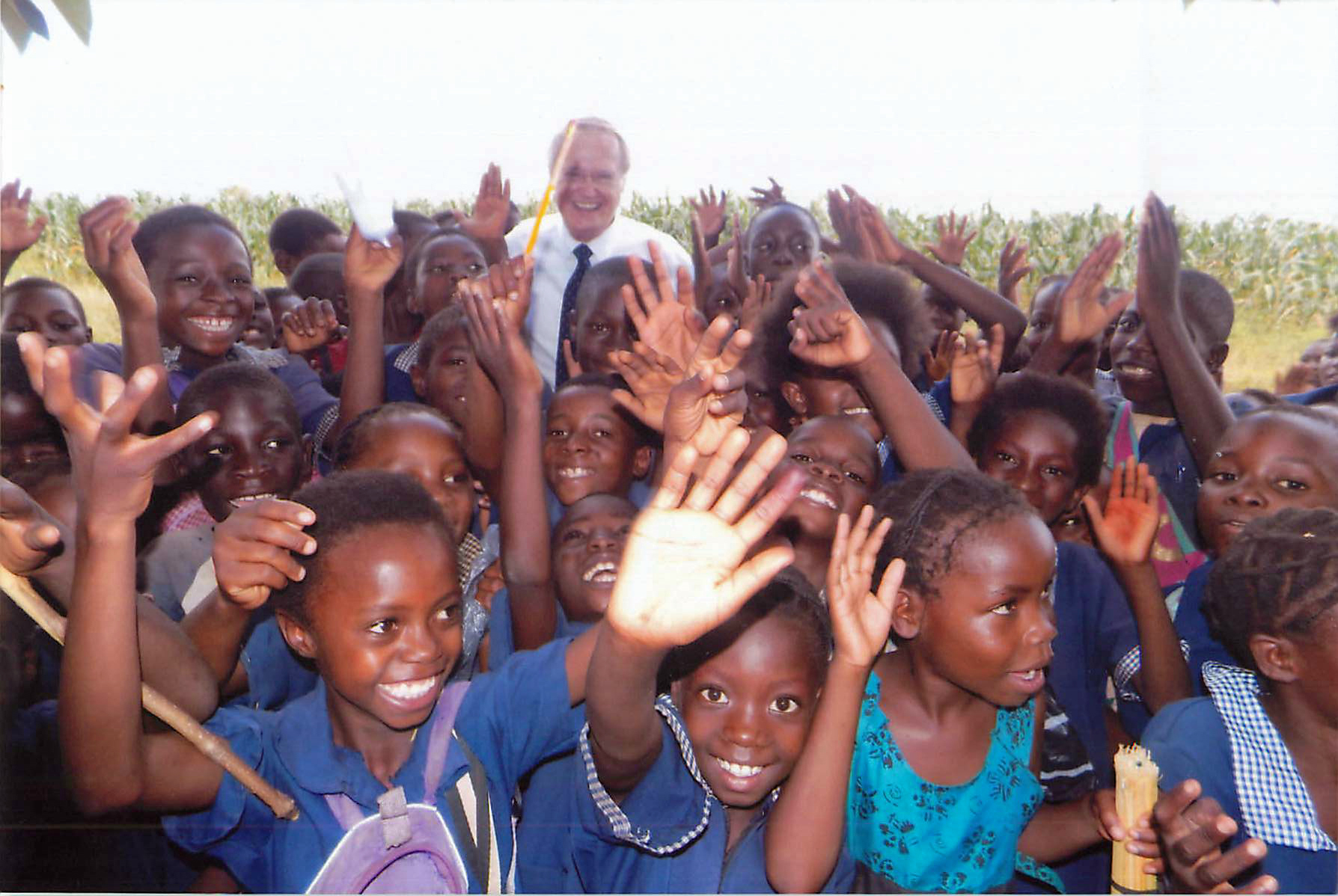 Dr. George Gisin is the president and CEO of Eagle Applied Sciences, LLC, a BBNC subsidiary that's mission is the application of applied science solutions to the evolving needs of the medical field. Employees of Eagle and sister subsidiaries, Eagle Medical Services and MedPro Technologies, have been on the forefront of medical care around the world, and have been providing services for people affected by a wide range of diseases and conditions, including the recent Ebola outbreaks. Dr. Gisin joined the BBNC family in 2006, after serving 23 years as an officer in the Medical Service Corps of the Army Medical Department.
Dr. Gisin's passion to help others, however, goes beyond his commitment to Eagle's mission. Since 2002, he has worked to establish, fund and expand a charity to assist residents of the village of Mazabuka, located in the Central African country of Zambia. It began at a retreat, where Dr. Gisin met Sister Celestine Daly, a missionary nun from Dublin, Ireland, who lived and worked with the village. The AIDS epidemic had already decimated the area, and along with the social issues of broken families and orphaned children, there was little food or clean water, few schools, and not enough volunteers to change any of it. Additionally, the local hospital had minimal beds, no running water or very little anesthesia for patients.
The story affected Dr. Gisin deeply. "In this part of Africa, children were dying every day, and it was absolutely preventable," he said. "There was nowhere for them to go, no one to reach out to for help. Sister Celestine has dedicated her life to helping the people of Mazabuka, but with limited financial resources, she was only able to take care of the baseline needs of the most vulnerable."
Within weeks, Dr. Gisin had set up a non-profit 501 (c) 3 — Children in Need, Inc. (CIN).   He reached out to friends and colleagues to serve on a Board, and enlisted more help – all volunteer. The team began to raise money, and worked directly with Sister Celestine to address the problems facing the village.
In 2005, he got a chance to see the changes first hand. Dr. Gisin traveled to Mazabuka to visit the teachers, students, and hospital staff his organization had helped.  There were classrooms, teachers, an upgraded healthcare facility and clean water. He also saw hope in the faces of the people there, something the Sister told him was also a new development.
Since then, George and other Children in Need volunteers have raised $1.2 million to benefit Mazabuka. CIN has no overhead and every dollar has gone to the community, and currently the funding provides food to hundreds of families, housing for teachers, many classrooms, clothes, other necessities, and a generator for the hospital.  CIN funds the building materials, and the residents in each area do the construction for the homes, classrooms, and even a church that was built in a very rural area.  He visited again this year to attend the dedication of the church.  He was amazed at the changes, as well as the impact CIN has had on the community.
There is much more to do, he said. Sister Celestine comes to the United States every two years to share the story and show progress. Dr. Gisin says next steps include new pediatric beds for the hospital, training for healthcare providers, installing solar panels at the schools, computers for the students, and construction of a burn ward to treat pediatric injuries resulting from the local use of open fire pits in homes for cooking and heat.
The journey has been a labor of love for Dr. Gisin. "I continue to be amazed and humbled by the appreciation and generosity of the people of Mazabuka," he said. "Hearing their stories and seeing how far this has helped them come has been incredibly fulfilling; I've been honored to be a part of their story."
To learn more about Children in Need, visit childrenneed.org.