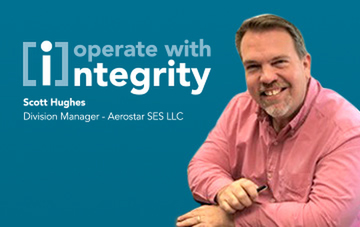 This series profiles BBNC employees' commitment to our culture of excellence.
Scott Hughes was chosen for the [i] in Integrity series because of his contributions to BBNC's culture of excellence. As a manager, he works hard to ensure an ethical workplace. One of the tools he uses is "The Good Ones: Ten Crucial Qualities of High-Character Employees" by Dr. Bruce Weinstein, which was shared with BBNC's leadership at the 2016 Compliance Conference. BBNC is proud to provide employees with the resources and tools they need to ensure we are all Operating With Integrity.
Learn more about Scott, and what inspires him to be ethical, below.
Name: Scott Hughes
BBNC Company: Aerostar SES LLC
Position: Division Manager
Describe why integrity is important to you: Proverbs 11:3 states that, "The integrity of the upright guides them." The book of Proverbs holds a lot of wisdom and I try to live my life with integrity and wisdom so that I bring honor to God and my family. It's about doing the right thing.
How important is BBNC's focus on operating with integrity: Operating With Integrity is very important because I don't want to work for a company without a sense of morality. A company that consistently does the wrong things for the wrong reasons would not be a place I want to work. BBNC's focus on its shareholders and the environment provides a sense of responsibility and brings a higher purpose to work every day.
Please share an example of ethics in action: A simple story comes to mind. We have a young engineer that recently put a small dent in one of our field trucks. In the past, many such incidents have been "swept under the rug" and not reported. She owned up to it, sent me pictures of the dent, and asked me what she needed to do about it. I was very proud of her honesty, and it reinforced our decision to hire someone with integrity.
Do you have any advice for others striving to make integrity a part of their every day: My advice is simple: live a life of integrity.