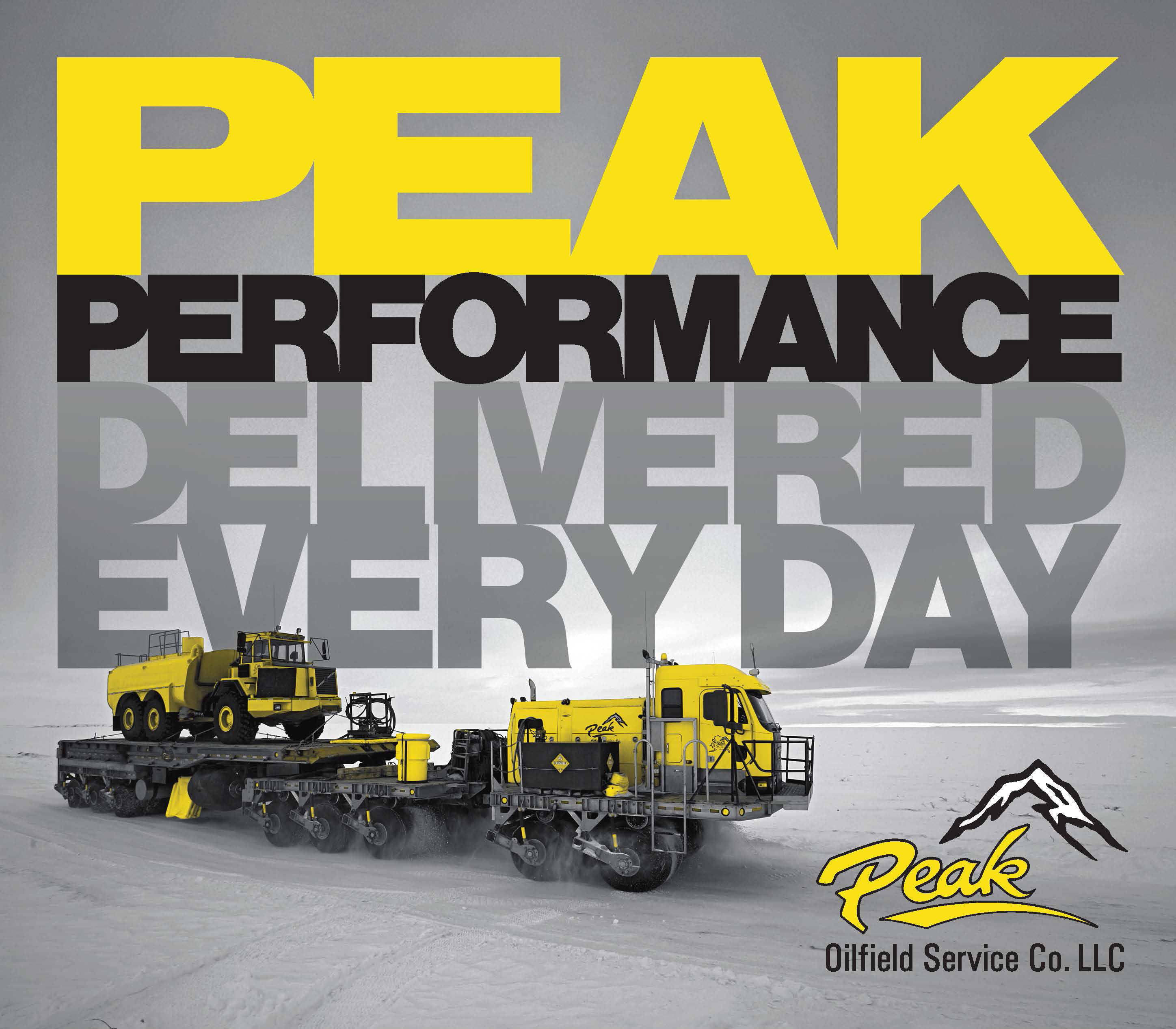 Peak Oilfield Service Company LLC has been updating their fleet of Kenworth 849 tractors (also known as SOWs) over the course of the last six years.  This fleet is made up of twelve tractors built from the late 1970's to the mid-1980's and were built to move large drill rigs across the North Slope of Alaska.
Currently Peak has rebuilt 9 of the SOWs and has four left to finish updating the entire fleet.  The rebuilding of these trucks has taken place at Peak's Palmer facility.  Three highly skilled mechanics disassemble the trucks to the frame.  The frames are checked for condition and painted.  Then the process of rebuilding the trucks with new components starts.  In each truck the engine, transmission, winch and cab are replaced with new components.  The axels and beds are inspected and rebuilt or replaced.  Each truck takes roughly six months from initial disassembly through completion.  With the new components and upgrades these trucks have undergone a frame off restoration and are effectively brand new tractors with another 30 plus years useful life.  Peak has been able to complete the rebuild process for roughly half of the cost of purchasing a new unit, (roughly 1.2 million dollars).  The finished product is built and set up exactly the way it needs to be for the work that Peak performs in the Arctic.
JOB TO JOB. Year After Year.
Peak Oilfield Service Company's mission is to support resource development companies, providing quality-driven, cost-effective construction, operations and maintenance support, industrial cleaning, and transportation services.
We invest in our company and our people, continually training and certifying our employees in their fields of expertise, while utilizing the latest technology and equipment. The result: Peak is among the leading companies in oil and gas support services, backed by a long-standing, experienced family of over 700 employees.
With offices in Anchorage, the North Slope, Cook Inlet, Valdez, Palmer and North Dakota, our reputation in the oil and gas industry is hard-won through our efforts to provide safe work record and the best services in some of the world's harshest environments.
Peak is proud to deliver high-quality professional services to the world's leading resource development companies and has been doing so since 1987.
NORTH SLOPE SERVICES
General civil construction

Crane services

Fabrication

Industrial cleaning

Ice Road Construction

Maintenance

Oil spill response

On- and offshore development

Pipeline development

Rig Moving and Support

Remote Camps

Transportation services
COOK INLET SERVICES:
Civil and mechanical construction

Crane services

Fabrication

Operations and maintenance support

Pipeline construction

Project management services

R-stamp vessel repairs

Tank construction and maintenance

Trucking and equipment support
VALDEZ SERVICES:
Fleet maintenance

Industrial cleaning–tanks & pipelines
NORTH DAKOTA SERVICES:
Construction – Civil/Electrical/Structural/Mechanical

Pump Jack Erection

Elevated Steel Pump Jack Base Installation

Helical Pier Installation

Conventional Concrete Base Installation

New Unit Installation

Retrofitting of Existing Units

Heavy Hauling

Helical Pier Installation

Operations & Maintenance Support

Fabrication – Piping/Structural

Hot Shot Services

Pipeline Construction

Drilling Rig Upgrade

Mobile Crane Fleet

Facilities Installation